We are Vaartuig, a.k.a. Brian & Mathilda
Not sure how to pronounce "Vaartuig"? Don't worry, we'll teach you. ;-)
Written as one word, "Vaartuig" can be translated as "Sail craft".
But it has a completely different meaning if you break up the word: "Vaar tuig" means "Scum that sail"— a nod to Amsterdam's history as a haven for pirates. Read on to find out more about the two Amsterdam locals that you'll be braving the high seas with — er, rather, cruising the low canals with. We're a married couple with kids who decided to launch a company together, organising Amsterdam canal cruises with a twist!
We present:
The Sailor and Booker
Mathilda (who was found as a stowaway on a Mediterranean vessel). A mother of one, she is real funny and a bit feisty (so be careful!) She loves boats, loves to party and dance, and is as sincere and big-hearted as they come.
Get in touch, she'll be happy to help you create your perfect canal cruise!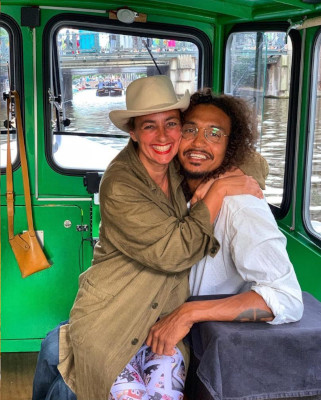 The Captain
Brian (who previously sailed the Caribbean with Captain Blackbeard's crew). A father of three, Brian loves life, loves boats, loves Amsterdam, loves his wife deeply and believes we can all make this world a better place.
Brian can't wait to share the beauty and history of Amsterdam with you as the Captain of your boat tour!
When these two treasure-seekers found each other, they decided to begin a new life together on the charming canals of Amsterdam.
They built a new craft, a beautiful modern saloon boat, and named it the Zavi (which means "boat" in Mongolian.)

Now they spend their days sharing the history and charm of their city with with guests from near and far!